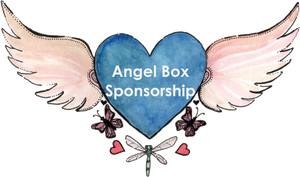 Sponsor an Angel Box.  Sponsorship will assist in covering the costs of sending an Angel Box to a grieving family.
* If you'd prefer to purchase specific items to help us fill Angel Boxes, check out our Wish List on Amazon. *
Our angel boxes are customized to each type of loss. If siblings,  children grief support books, activities included. 
We have three sizes of boxes. Small, Medium and Large. The size of the box depends on how many items we include in the box, so each member of the family receives something.